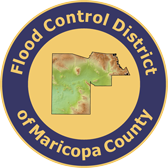 Public Comment Period for Changing Flood Maps
FEMA Appeal Period will run February 20, 2019 through May 20, 2019.
What is changing?
The Federal Emergency Management Agency (FEMA) has published 24 preliminary Flood Insurance Rate Maps (FIRMs) for a portion of the Gila River within Maricopa County. These preliminary maps include proposed changes to 100-year floodplains.
The proposed changes include both increases and decreases in the floodplain width along the Gila River between Bullard Avenue and Painted Rock Dam Reservoir and identified approximately 7 square-miles of additional overflow floodplain between Perryville Road and Apache Road.
Will my property be impacted?
Please use this map to see if you will be added, removed or will remain in the 100-year floodplain. Zoom in to your area and use the legend to identify the changes.
Inquiries and Appeals
FEMA holds Appeal and Protest Periods to allow for public comment on proposed 100-year floodplain changes. The Appeal and Protest Period for these 100-year floodplain changes begins February 20, 2019 and will extend through May 20, 2019.
If you have questions regarding the changing floodplain or need more specific information regarding submitting an appeal, please contact us by email at kag@mail.maricopa.gov.
Appeals and Protests submitted to FEMA must include scientific or technical information that explains why you believe floodplain/floodway boundaries, base flood elevations or zone designations are incorrect. You may also submit comments to FEMA to correct non-technical information, such as road names, community limits, etc. More information regarding the appeal process can be found by clicking the link below.
Criteria for Appeals
Please submit appeals to the City of Buckeye, Town of Gila Bend, City of Goodyear, the Flood Control District, or directly to FEMA by May 20, 2019.
If property owners are unable to obtain and submit the appropriate supporting appeal information within the 90-day appeal period, they may pursue a formal map revision after the map has become effective through a Letter of Map Revision (LOMR). The same documentation required for an appeal is also required for the LOMR. More information regarding the LOMR process can be found by clicking the link below.
More Information: LOMR Process